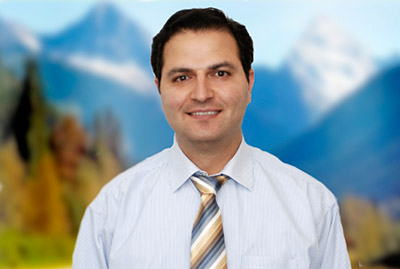 Dr. Danny Abboud attended Dental school at the University of Colorado, School of Dental Medicine, where he graduated from in 2007.
Dr. Abboud had the privilege of taking over at Boulder Dental Center in 2010 after practicing in Santa Fe, New Mexico. Dr. Abboud has been honored to continue the running of a comprehensive and accessible dental practice on Canyon Blvd, where patients have been receiving dental care in the same location for more than 40 years. Dr. Abboud has also been passionate about expanding Boulder Dental Center to other locations to ensure the people of Boulder county have access to quality and affordable dental care.
Through a combination of state of the art technology, sensible treatment plans and genuine devotion to the unique needs of each patient, Dr. Abboud preserves healthy teeth and gums, alleviates oral discomfort and improves the appearance of smiles on a daily basis. He has applied his unique blend of artistic and technical skills to produce durable and aesthetic results in thousands of patients. Dr. Abboud loves to incorporate new technologies to provide patients with the most up to date dental care. Dr. Abboud is dedicated to lifelong learning through continuing education courses, he especially enjoys expanding his knowledge in dental implantology and oral surgery.
Dr. Danny Abboud is licensed by the Dental Board of Colorado and is a member of the American Dental Association, American Academy of General Dentistry, the Academy of Osseointegration and Colorado Dental Association. Dr. Abboud is adjunct faculty at the University of Colorado, School of Dental Medicine, Restorative Department.
When not practicing dentistry, Dr. Abboud likes to spend time with his wife and their two small children. He likes to enjoy all that Boulder and Colorado have to offer including, hiking, skiing, riding his bike and strolling through the farmers market.