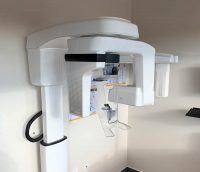 At Englewood Dental Center we offer digital x-rays for our patients. With rapidly developing technology, conventional dental x-rays are being overtaken by a revolution in digital x-rays. With digital x-rays, images can be acquired instantaneously in the dental office. This process is faster, safer and produces images that are at or above the resolution of traditional film x-rays. These images can be manipulated, enhanced, stored and exchanged for referral and other purposes making them extremely useful and convenient.  In addition to the direct clinical and diagnostic benefits, digital x-rays also have the distinct environmental advantage of using significantly less resources and 80% lower radiation dosages.
3D Xray machines are the latest in  panoramic and CBCT digital imaging. It blends cutting-edge technology with ease of use in a compact design. 3D Xray technology is a tool for accurate diagnosis and complete treatment planning.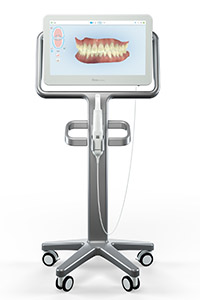 The iTero Element system saves you time and trouble by digitally
capturing teeth and gum impressions and eliminating the need for plaster molds in most cases. Our digital scans will be viewed with you at your appointment and can also be sent to the lab and used to quickly create your crowns, Invisalign treatment, and retainers.
Pain-Free Anesthetic Delivery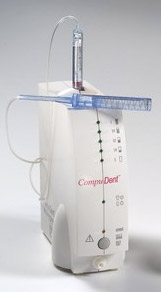 Over 50% of patients fear anesthetic syringes according to a recent national survey. Some patients get more nervous than others at the mere sight of a needle. Discomfort from a dental shot is mostly due to the feeling of pressure created by the flow of dental anesthetic. A computer controlled injection system called The Wand can greatly relieve this discomfort.
THE WAND® doesn't look like a traditional syringe so the patient's initial apprehension is minimized. During the actual injection, the development of an anesthetic pathway combined with computer controlled constant flow assures that there is minimal awareness that the injection is even being given. 
THE WAND® represents the first major technological advance in anesthetic delivery since the syringe was first invented nearly one hundred fifty years ago. This computer controlled "Novocaine" delivery system conquers fear of pain and anxiety. Dr. Abboud gives his patients the highest quality dental care while addressing their concerns about the pain, fear and anxiety associated with standard syringe injections.
THE WAND® can be positioned more accurately and has a controlled novocaine flow rate. This provides quicker numbing of the teeth without the usual numbness of the tongue, lips and face. This computer controlled anesthetic delivery system also eliminates that "fat face feeling" that can last for hours. Dr.Danny Abboud has perfected the art of dental anesthesia and provides pain-free treatment. He offers nitrous oxide for relaxation if patients request it.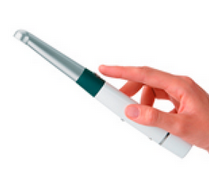 An intra-oral camera is an indispensable diagnostic and educational tool. The tiny video camera moves around inside of your mouth and generates a tooth by tooth video exam of your teeth.
Using an intraoral camera at Boulder Dental Center allows patients to better understand their dental needs by seeing what the dentist sees and then having it explained. With the images produced by the intraoral camera, patients can see their teeth and dentists can indicate problems such as broken teeth, decay, gum disease and defective fillings.
Dental Soft Tissue Laser (Diode Laser)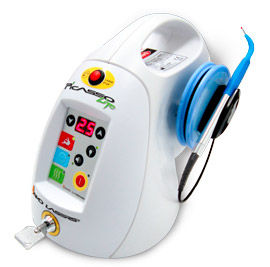 Englewood Dental Center is striving to provide state of the art technologies, and noninvasive treatment modalities, thus we are pleased to include the Dental Soft Tissue Laser (Diode Laser) in our Center.
INDICATIONS OF USE:
Laser soft tissue curettage
Laser removal of diseased, infected, inflamed, and necrosed soft tissue within the periodontal pocket
Removal of highly inflamed edematous tissue affected by bacteria penetration of the pocket lining and junctional epithelium
Sulcular debridement (removal of diseased or inflamed soft tissue in the periodontal pocket to improve clinical indices including: gingival index, gingival bleeding index, probe depth, attachment loss and tooth mobility)
Laser Aesthetics & Surgery
Exposure of unerupted teeth
Fibroma removal
Frenectomy and frenotomy
Gingival troughing for crown impressions
Gingivectomy & Gingivoplasty
Gingival incision and excision
Hemostasis and coagulation
Implant recovery
Incision and drainage of abscess
Leukoplakia
Operculectomy
Oral papillectomies
Reduction of gingival hypertrophy
Soft Tissue crown lengthening
Treatment of canker sores, herpetic and aphthous ulcers of the oral mucosa
Vestibuloplasty Laser Teeth Whitening
Laser associated whitening of teeth
Light activation for bleaching materials for teeth