Dear Valued Patient, You now have access to a full coverage dental plan through your dentist office! Our plan offers both individual and family dental care at a discounted rate for you and your family. We believe in ensuring our patients have access to quality and affordable dental care. We also know that regular dental care is essential to your health. And, we know that typical dental coverage through an employer is not always affordable or easy to utilize. Therefore, we have established a discount plan to allow our patients ongoing, consistent and easy to access dental care at your current dentist. Our plan provides discounts between 25-100% on preventative and specialty dental services. Enrollment in the plan occurs annually, is very simple, and only takes a onetime yearly payment. The one time annual payment covers preventative care at 100% and gives you 25-35% discounts on treatment including, fillings, crowns, root canals, implants, night-guards and Braces. Our plan is available to all patients who do not currently have active dental insurance and has options for both individuals and families. Preventative treatment is covered at 100% with enrollment!
Annual Cost Paid With 12 Month Agreement
Enrollee + 1 Family Member
Each Additional Family Member
Although, TMJ disorders can be painful there is a lack of research in any invasive or aggressive treatments. Therefore, it continues to be recommended that patients choose the least invasive procedures that do not involve surgery or invading any of the tissue of the joint. It is also recommended, also due to the lack of research, that reversible treatments be utilized. Self-Care Practices The recommended practices that can be accomplished independently involve eating soft foods, applying ice to the sore area, avoiding gum chewing, stretching the jaw, reducing stress and engaging in some relaxation techniques. Pain Medications For some individuals who suffer from TMJ disorders, short term usage of pain medication may be helpful. It is recommended that individuals use anti-inflammatory drugs such as ibuprofen. If indicated, a doctor or dentist may prescribe a stronger pain medication, muscle relaxant or anti-depressant to ease TMJ disorder symptoms. Bite Guards For some indivdiauls with TMJ disorders, a bite guard or stabilization splint may be recommended. The guard is a plastic devise that is fitted to sit over the upper or lower teeth. Bite guards are the most frequently utilized TMJ disorder treatment. Research in the effectiveness of bite guards are varied regarding pain relief. The guard should not increase pain. If pain does increase with use, contact your health care provider.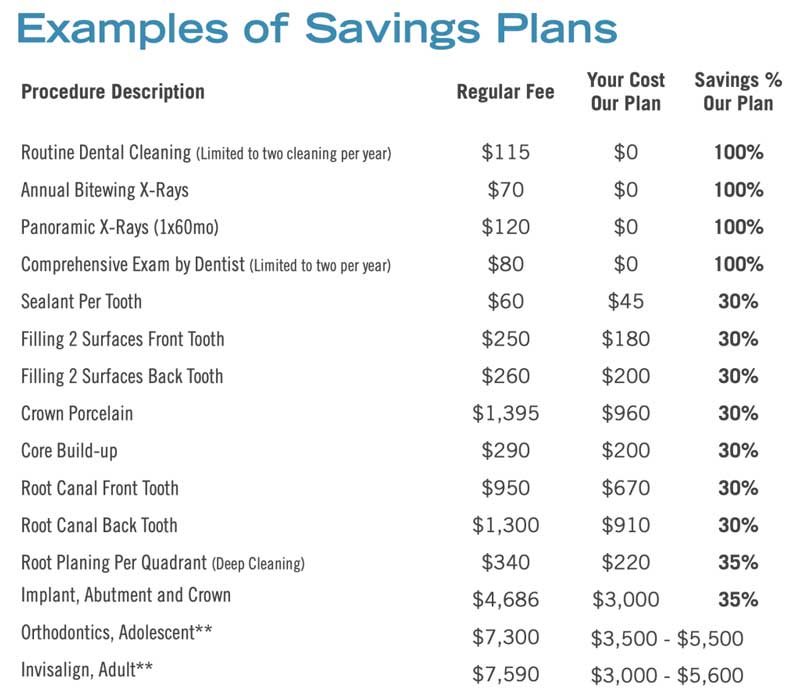 Terms and Conditions
I am applying to enroll in the Our Plan dental plan program with Boulder Dental Services for a minimum of one year. I will remain on the plan and pay membership fees for a minimum of 12 months. There is not cancellation or termination option for the annual period agreed upon. Fee's for dental services provided at the discounted rate are due at the time of service. Fees for restoration and prosthodontic services are due at the preparation and impression visit. Failure to provide payment at time of service may result in being charged usual and customary fees. Renewal of plan will occur automatically at your annual renewal date unless otherwise notified by you.
By agreeing to these terms and conditions, I affirm that I understand the payment conditions and dental services provided under this plan. Pursuant to the Health Insurance Portability and Accountability Act of 1996, my acceptance authorizes the Boulder Dental Services organization to utilize my Protected Health Information (PHI) to carry out treatment, payment and healthcare operations. I understand that it is the policy for Boulder Dental Services to only utilize the minimum PHI to facilitate my treatment under this plan.
Dental Limitations and Exclusions
The plan only includes services as outlined in the complete fee schedule. Patient will only receive services when deemed clinically necessary by practicing dentist or dental hygienist. Plan does not include medications provided at the dental office, general anesthesia, any services requiring the involvement of a non-participating specialist, orthodontic services or any procedure not performed by participating dentist. Furthermore, this plan does not cover any dental procedures performed outside a Boulder Dental Services office locations.